<! ---------------- insert link to picture here ---------------- !>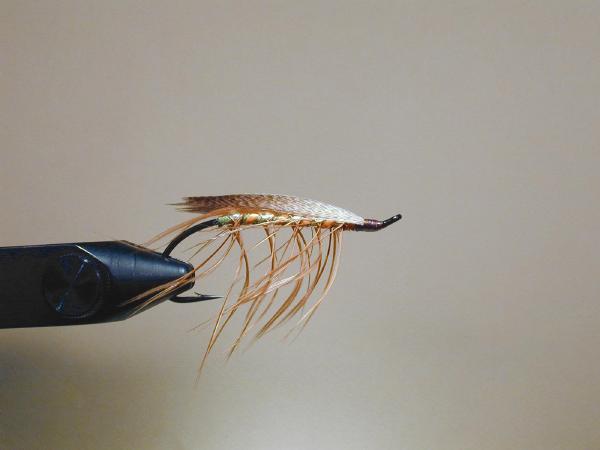 * Click on the picture for larger image.
<! ---------------- insert recipe here ---------------- !>
Gold-Green Fly
as per Knox
Hook:
Partridge Single Wilson (Lightweight) #4.
Rib:
5 turns of orange silk floss, with medium flat gold tinsel in between, and fine gold oval as a counter-rib.
Body:
olive Berlin wool.
Hackle:
natural reddish brown Spey cock substitute, tied in at the front. by the tip, leading the flat gold tinsel.
Wing:
bronze mallard, tented and very low, horizontal style.
Head:
brown.
Note:
A classic Spey River fly. The brown thread in the head is my own embellishment, as I found the black thread on the black hook caused the head to get lost in it all. The classic color for the head is black.
Fly tied and photographed by R. J. Brown.